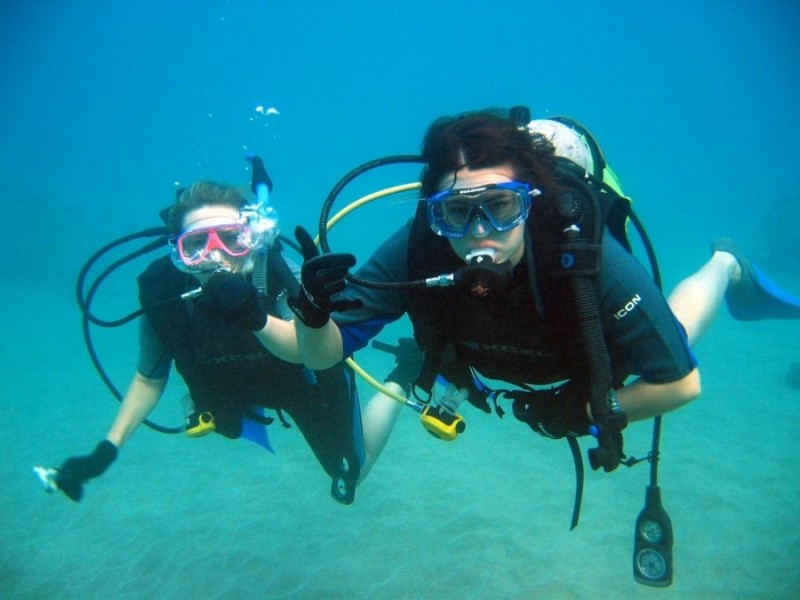 Scuba diving facilitates the exploration of wonderful places under the sea and the benefits are numerous. Diving between 20 and 30 meters reduces stress, controlling your breathing helps you to relax. Staying underwater for long minutes boost self-confidence, it also improves teamwork. Scuba diving improves physical fitness. It stimulates the muscles without tiring them, and burns many calories. Wearing the right equipment is necessary. How to choose your scuba diving gear? Follow the guide
The main diving equipment
Diving need suited gear. They help the diver to attain his target.
Scuba air tank
The tank contains a gas mixture that allows divers to breathe underwater. They are available in several materials like carbon, aluminium or steel. Their weight depends on their capacity and composition. Manufacturers offers a variety of sizes.
Regulator
The regulator reduces air pressure to make it easier to inhale. This equipment is classified into two types: the piston version and the diaphragm model. The piston regulator contains two groups too: the simple piston and the compensated piston.
Wetsuit
The wetsuit protects the diver from cold and injury. Manufactures uses neoprene, this material provides good thermal insulation.
Diving mask
The mask protects diver's eyes and lets him enjoy the view. Full-face mask have one piece or double lenses.
Fins
Diving fins make it easier to move around underwater. There are two categories of fins: full-foot fins and open-heel fins.
Diving stabilizer waistcoat 
A stabilising jacket reduces the weight of air tank. It speeds up ascent and ensures buoyancy. The adjustable waistcoat hugs the body, the wrap-around waistcoat has large pockets and the technical waistcoat allows you to stay horizontally.
Watch or computer
The watch or dive computer provides essential information. These include dive time, depth, temperature and decompression stops.
Warning devices
Surface signalling devices enhances safety. They show your position to the teams staying on the boat. You can choose among various tools: marker buoy, signal mirror, light signal, whistle and horn.
After these scuba diving equipment, there are accessories such as booties, gloves, waterproof bag, compass, logbook and parachute. They ameliorate comfort and strengthen security.
How to choose scuba diving gear
Choosing an adapted regulator
The choice of regulator depends on depth. A single-piston regulator is suitable for dives in less than 20 meters. Above that, you need a compensated piston regulator. Very cold water requires a diaphragm regulator.  The regulator system (Din or int) depends on block and pressure. The DIN system is suitable for a maximum block pressure of 300 bar. The INT system improves watertightness, but the diver must be very careful when handling.
Adapters are available to simplify selection. Brands specify the regulator's suitability for cold or warm water. They also add some feature. Anti-freezing is designed for cold water. Venturi effect simplifies inspiration at great depths. After the technical criteria, take the time to test mouth comfort.
How to select scuba diving suits
The thickness of the suit depends on temperature. 7 to 8 mm guarantees good protection in the middle of winter, when the temperature is less than 15°C. Slim diving jacket fits when the water is more warm. Waterproof or semi-waterproof models are preferable if you dive during the cold season. Consider size and body shape when choosing.
An adapted mask is recommanded
Take the time to check that the mask is waterproof, resistant to steam and easy to adjust. Above all, a test run will determine if the mask is suitable or not.
Choosing the right foot fins
Picking the right size for your feet is essential. This ensures that you do not lose your fins unexpectedly. An adjustable system ensures comfort.
How to choose a waistcoast
The choice of the best waistcoat depends on your level and mission. Experienced divers prefer a model with large pockets, while special missions requiring a long horizontal position call for a technical waistcoat. The main criteria for choosing a vest are size and fits. The straps and shoulder straps play an essential role. Padding on the back and shoulders help absorb the weight of the diving block. Attachments for accessories is interesting too.
Watch or computer, the guide
Whether you choose a watch or a computer depends on your needs and your budget. High-performance equipment costs more. A few criteria guide choice: measurement of parameters, autonomy, ease of use and readability. Some can withstand more than 175 dives. The number of measurements varies from version. Some machines includes a compass and warn that you can't fly after diving. The choice of warning tools depends on each situation. The diver have to take two kinds of device at least, one audio and one visual.
It is important to buy your scuba diving equipment at a specialist shop. The team can help you to choose a gear in function of your target and your budget.

---